There is a food phrase used in the media that always catches my attention: 'From Farm to Table'. Sounds simple enough right? You collect the eggs to make your omelet, you pick the lettuce to the make your salad and you milk the goat to make your cheese? If only it were that pastoral... With the all too prevalent foodborne illness scares, the term has come to mean the governmental process of tracing a contaminated tomato back to its agricultural source; Or in Michael Pollan's case, tracing a McDonald's hamburger back to a commodity cornfield in Iowa; Or a rustic, familiar allusion to family-run, local ranching in The Niman Ranch Cookbook: From Farm to Table. While I feel it is admirable that the term is helping people really consider where their food comes from, for me personally, it alludes to the very literal sense of the phrase: From a farm to my table, with no extensive journey in between. In true investigative form, I set out immerse myself in my romantic perception of this phrase.
Camp Joy Camp Joy is a small non-profit organic farm operated for educational purposes and supported by Community Supported Agriculture (CSA) boxes. The farm is 4.5 charming acres of organic fruit, vegetables, flowers, goats and chickens in the Santa Cruz Mountains. I just happen to visit at peak fruit time.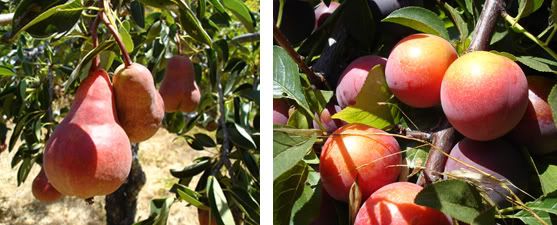 In addition to eating fresh peaches and plums right off the trees, I was treated to fresh eggs for breakfast and homemade herbed goat cheese made from Camp Joy's happy and productive goats. Camp Joy strives to educate others on how to live more sustainable lives, and after my amazing visit, I felt compelled to start immediately.
Country Flat Farm Country Flat Farm is one of the most endearing places I have ever been. And let me explain "endearing": The single family run farm sits atop a mountain overlooking the Big Sur coast. The views are absolutely spectacular. It is no wonder the energetic lemon trees and fruitful (ha) apples trees happily bask in the sun there. The home on the property is completely solar powered and built from materials that came from the land on which it stands. The farm is run by a remarkable family that doesn't take an inch of beautiful land for granted and through sustainable life practices, hope to make a difference. I spent the day digging out carrots, snipping off fresh bunches of lettuce and filling my shirt full of fresh meyer lemons (making sure I only took as many as I could consume.)
What did I learn? First of all, there is something kind of sexy about dirt under your fingernails at the end of the day on a farm. Also, food just tastes better when it comes directly from the farm to your table. There are many ways our population can easily be more conscientious eaters. Buy local. Look into starting a CSA box for your own home. For a great listing of Bay Area CSA box options check out this comprehensive list on Om Organics website.
Happy Eating!